Pickups start on October 15th. You may pick up your allocations during regular hours.
Wine Tasting
Reservations are REQUIRED for any wine tasting, including the new releases. 
Schedule your wine tasting reservation HERE
We invite you to taste our newest wines with Jarrod and Ali and the team! You'll get the winemaker's thoughts on each wine, some fun stories, and our teams' favorite picks and recommendations!
Sneak peek (and some bloopers) of what you can experience watching our full tasting videos featuring Ali & Jarrod Boyle with some of our team members! 
'Guess Who' Baby Picture Challenge
Match our ANC team members to their corresponding baby pictures!!
Can you find all our release related words?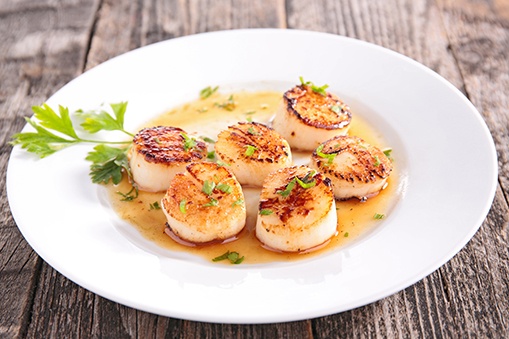 Seared Scallops w/ Pineapple Beurre Blanc Sauce
Ingredients
Beurre Blanc Sauce
1/2

cup

Pineapple Juice

1 1/2

cup

Dry White Wine

1

tbsp

Chopped Shallot

1

ea

Leek Sliced

(white parts only)

1

tbsp

Heavy Whipping Cream

2

sticks

Butter

cut into 1/2 inch cubes ( keep it cold)

Salt

to taste
Scallops
6

ea

Scallops

Salt & Fresh Ground Pepper

2

tbsp

Butter

2

tbsp

Olive Oil
Instructions
Sauce
In a medium saucepan, Heat wine, juice, vinegar, shallots, and leeks until it begins to boil.

Let it simmer until the liquid is reduced to two tablespoons. Takes about 10 minutes.

Strain the liquid from shallots and leeks, and return back to the saucepan on low heat.

Add butter 2-3 cubes at a time whisking rapidly.

Add heavy whipping cream.

Continue to whisk as you add butter.

When you throw in your last 3 cubes of butter, removethe saucepan from heat and continue to whisk until the butter is melted.

Now you should have a smooth thick sauce. Season with salt
Scallops
Sprinkle salt and pepper on both sides of the scallops.

Using a saute pan on high heat, melt the butter andoil.

Place the scallops in the pan and let it cook for 3 minutes eachside, or until you will have a nice golden crust on the outside and translucentinside.

Serve immediately with beurre blanc sauce over it and pan searedpineapples (optional).
Notes
Recommended wine pairing: 2019 Marsanne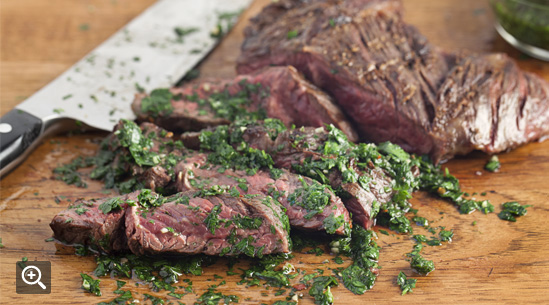 Steak w/ Chimichurri sauce
Ingredients
2

tbsp

Fresh Garlic

roughly chopped

1/2

cup

Fresh Parsley

1/4

cup

Fresh Cilantro

1

cup

Olive Oil or Avocado Oil

1/4

cup

Fresh Lemon Juice

1

tbsp

Dried Oregano

1

tbsp

Crushed Red Pepper

1/2

tbsp

Salt

4

ea

Steaks

( filet is best but your favorite steak is good too)
Instructions
Chimichurri Sauce
In a food processor, process fresh garlic until minced.

Add fresh parsley and fresh cilantro and pulse until uniformly chopped.

Add in remaining ingredients and pulse until well combined.

Transfer to anairtight container and keep in the fridge.
Notes
Recommended wine pairing: 2017 Carmenere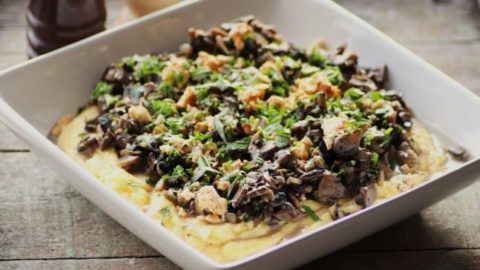 Mushroom Ragu w/ Parmesan Polenta
Ingredients
Portobello Mushroom Ragu
3

tbsp

Olive Oil

extra virgin

2

ea

Shallots

halved lengthwise and thinly sliced

1

lb

Portobello Mushrooms caps sliced into 1-inch chunks

stems and gills removed

1

ea

Garlic Clove

thinly sliced

2

tsp

Fresh Rosemary or Thyme

finely chopped

1/2

tsp

Red Chili Flakes

3

tbsp

Tomato Paste

1

tsp

Balsamic Vinegar

1/2

cup

Vegetable Stock or Water

2

tbsp

Unsalted Butter

1/2

cup

Parmesan Cheese

freshly grated

Salt
Parmesan Polenta
4

cup

Water

1

cup

Milk

1

cup

Cornmeal

coarse or medium-grind

3

tbsp

Butter

Salt
Instructions
Ragu
Put the olive oil, shallots and a pinch of salt in a large (12-inch) skillet and place over medium heat.

Cook, stirring frequently, until the shallots are softened, but not browned.

Add the mushrooms to the pan, Cook for about 5 minutes, or until they take on some color, then stir and add 1/2 teaspoon salt (this helps them release their water).

Continue cooking until the mushrooms become tender and the liquid evaporates.

Stir in the garlic, rosemary or thyme, chili, tomato paste, vinegar, and butter.

Add 1/3 cup of the stock or water and stir until the mixture becomes saucy, adding more liquid if needed.

Serve the ragu over Parmesan Polenta with grated Parmesan.
Creamy Polenta
Bring the water and milk to a boil in a heavy-duty saucepan or small Dutch oven. Stir in 1 1/2 teaspoons salt.

Gradually sprinkle the polenta into the pan while whisking at the same time.

Turn the heat to a very low simmer, cover and continue to cook the polenta for 25-30 minutes, until it's thick, fluffy and begins to pull away from thesides of the pan.

Stir occasionally so it doesn't stick to the bottom of the pan.

When it's done, remove from the heat and stir in the butter, cheese, and additional salt to taste if needed.

Serve warm, sprinkled with additional cheese if desired.
Notes
Recommended wine pairing:
2017 Rock Star Red
Salmon w/ Roasted Tomatoes & Shallots
Ingredients
1

lb

Salmon Fillet

4

cup

Cherry Tomatoes

1/2

cup

Shallots

thinly sliced

6

ea

Garlic Cloves

minced

2

tbsp

Fresh Oregano

chopped

1

tbsp

Olive Oil

Non Stick Cooking Spray

Salt

Pepper
Instructions
Preheat the oven to 400°F.

Sprinkle salmon with 1/8 tsp. each salt and pepper.

Lightly coat a 3-qt.rectangular baking dish with cooking spray.

In the baking dish combine the remaining ingredients. Toss to coat

Roast tomato mixture, uncovered, 15 minutes.

Place salmon, skin side down, on top of tomato mixture.

Roast, uncovered, 15 to 18 minutes or until salmon flakes easily.

Using two large pancake turners, transfer the salmon to a platter.
Notes
Recommended wine pairing: 2017 Counoise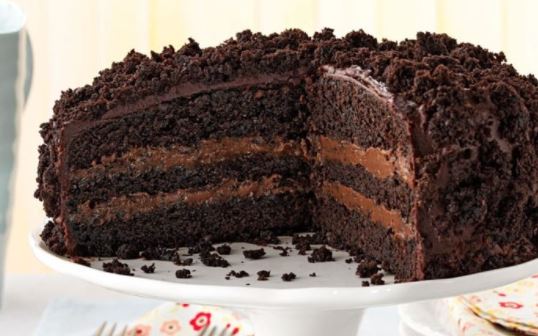 Blackout Cake
Ingredients
Cake
2/3

cup

Dark Cocoa Powder

1

cup

Hot Coffee

strong brew

1/2

cup

Vegetable Oil

2

cup

Sugar

2

lg

Eggs

1

cup

Buttermilk

1

tsp

Vanilla

1 3/4

cup

Flour

all purpose

1

tsp

Salt

2

tsp

Baking Soda

1

tsp

Baking Powder

2

ea

Parchment Circles

Butter

for greasing pan

Cocoa

for dusting pan
Frosting
1

cup

Dark Cocoa

4 1/2

cup

Confectioners Sugar

1 1/2

stick

Butter

softened

1/2

cup

Buttermilk

2

tsp

Vanilla Extract
Instructions
Prepare the Cake
Preheat the oven to 350 degrees.

In a small bowl, dissolve the cocoa powder and cayenne with hot brewed coffee and set aside.

In the bowl of a stand mixer with paddle attachment,cream oil and sugar until well combined.

Add eggs and beat until light and creamy, about 1-2minutes. This process beats air into the mixture. Scrape paddle and bowl and beat once.

Slowly add in coffee/cocoa mixture, buttermilk, vanilla, and beat until batter is smooth. Scrape paddle and bowl and beat once.

In a separate bowl, sift flour, salt, baking soda, and baking powder. Add dry ingredients to wet and beat on low speed to incorporate. Scrape down the bowl and mix just until all ingredients are combined, do not over mix once flour is in.

Butter the bottom and sides of two 9-inch cake pans and place a round parchment circle in each. Butter the top of the parchment then sprinkle the whole inside of the parchment and pan with cocoa powder, shaking out excess. Pour batter evenly between two pans and place in the center of the oven.

Bake 30-35 minutes or until a toothpick inserted into the center comes out clean. Depending on your oven, you may need to rotate cake pans halfway through. Do not over bake.

Cool pans on wire racks for ten minutes then carefully invert the pan onto a rack to cool further.
Prepare the Frosting
Sift cocoa powder with confectioner's sugar in a large bowl. In the bowl of a stand mixer or hand mixer, cream butter until smooth.

Add sugar and cocoa powder mixture along with buttermilk and vanilla and beat until smooth and creamy.

Add additional buttermilk or whole milk if frosting is too thick.

Place a small dollop of frosting on a cake dish to hold the cake from sliding and place one cake on the frosting. Frost the top of that layer.

Place the second cake on the first and frost the entire cake, top and sides.
Notes
Recommended wine pairing: 2018 Block 17 Syrah
Frequently Asked Questions (FAQ's)
"I belong to a lot of wine clubs in Washington, and I would have to say that membership with Alexandria Nicole is the most fun."